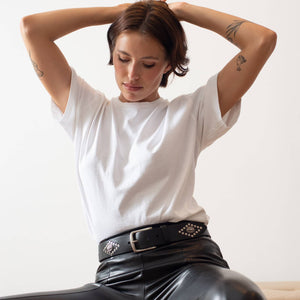 Women's FW2023 Collection
Express yourself in leather
Each BRAVE leather creation is bold and timeless, a unique work of art, master crafted from the finest materials to last a lifetime and beyond.
Impressive
Timeless style and craft. Since 1992.
For more than 30 years, iconic trend setters and leathercraft lovers around the globe have expressed their unique style through BRAVE Leather pieces.
BRAVE Legacy
Find a style that speaks to you, and make it yours. That beloved BRAVE piece will grow beyond a fashion accessory to become central to your look, reflecting who you are and how you move in the world.
After thirty years of world-class leathercraft, you make a few friends.
★★★★★

Stunning craftsmanship. This belt exceeded my expectations…a classic investment piece.

Theresa Crawford

Chesapeake, VA
★★★★★

Highly recommend!!! Superior quality leather and artisanship are beyond compare to any other belts on the market!

Tara Vivian

Burlington, ON
★★★★★

Deathly cool, same quality and attention to detail I've seen in my other Brave Leather belts. I don't buy belts from anyone else, and I'm sure they'll outlive me.

Michael Semer

Beverly Hills, CA
★★★★★

Absolutely LOOOVVEE this Bag! I get tons of comments…it's so beautiful. It's always such a delight when my Brave packages arrive on my doorstep – it's like Xmas, but not.

Sylvia Bury

Toronto, ON
★★★★★

Absolutely in love. I was concerned size-wise [but] it fits perfectly. I love that it is handmade in Canada using sustainable materials. Thank you for being a company that makes quality products in North America. So awesome.

Courtney A.

Los Angeles, CA
★★★★★

Nice and edgy…this belt will definitely elevate any outfit. As usual, Brave belts are a cut above in quality and style.

Kimberly R.

Tampa, FL
★★★★★

Beautiful quality…I love my new Brave Leather belt. I have several of them. Yummy and gorgeous. Thank you!

Sally B.

Seattle, WA
★★★★★

Amazing quality and clearly handcrafted! Service was great! I will be back.

Jeffrey Isaacs

Sante Fe, NM
★★★★★

I LOVE these belts. They're soft leather, fit perfectly, are very well made and look good with any jeans.

Melanie G.

Lindenhurst, NY
About us
Passion & Craft
For over a generation, our family of master leather crafters has been turning the finest materials into unique, bold and timeless pieces for leather lovers around the world, all right here in our one-of-a-kind Toronto workshop.
Take the tour